The following courses been selected for this year's Honors Program FSP offerings. We are excited to be able to provide such a great group of courses, all taught by our TCNJ Honors faculty.
Please note that students who have been accepted into the Honors Program must enroll in an Honors FSP their first semester at TCNJ. Prior to registration, students will be asked to provide a list of preferred course choices that will then be used to create first semester schedules.
Felicia Steele
"Conversations with Elves and Klingons: Constructed Languages"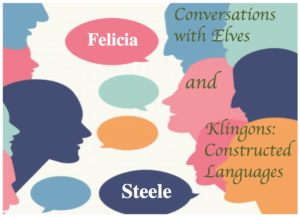 MR from 8:00 – 9:20 am
This course explores the topic of "constructed languages"–languages deliberately constructed for literature, gaming, diplomacy, or self-edification. The study of constructed languages provides an opportunity to examine language typology–the underlying structures of all human languages– but they also provide an opportunity to study the "conlang" subculture and notions linguistic aesthetics. Students will research the structure and history of different constructed languages and construct one of their own.
Michael Robertson
"The Simple Life"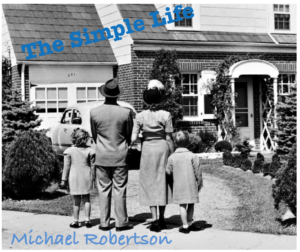 TF from 2:00 – 3:20 pm
For most people, the American Dream involves some degree of material success. However, an alternative vision of the American Dream exists, one centered on the idea of the Simple Life. This interdisciplinary seminar will explore the concept of the simple life from the nineteenth century to the present. We'll read Henry David Thoreau's "Walden" and consider what simplicity means in our age of Walmart and Facebook. Readings will include a science fiction novel by Ursula Le Guin and works on economics. We'll watch the film "The Queen of Versailles," conduct experiments in simplifying our lives, visit an Amish family, and harvest vegetables at a local family farm.
Rita King
"The History of Disease"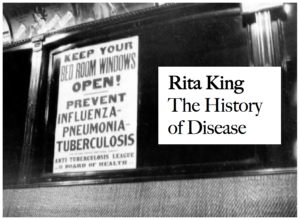 MW from 5:30 – 6:50 pm
Throughout history, humans have been burdened with countless infectious diseases. Some of these, due to their lethality or their insidious spread, have become legendary. In this course, students examine the societal impact of, and science's response to, history's most significant diseases, including plague, influenza (particular attention to the 1918 Pandemic), tuberculosis, smallpox, polio, cholera, malaria, syphilis, HIV/AIDS and Ebola. 2019 is not without its share of epidemics. We will explore the extent of measles around the world and the second worst epidemic of Ebola that is currently occurring in the Democratic Republic of the Congo. Through reading, writing, and class discussions, students explore the effects of each disease on two levels: the biological (microbiology, pharmacology, and immunology) and the societal (epidemiology and sociology). How does disease impact other areas including art and music? Students attempt to understand the biology of each disease while also learning its historical framework. The ethics of infectious disease monitoring and control, including quarantines, mandatory health department notification, and the use of experimental drugs, will also be the subject of classroom discussions. Current events relating to disease that crop up during this semester will be brought into the classroom on a weekly basis.
Steffen Marcus
"Mathematical miscarriages of justice: on the use and abuse of analytical arguments"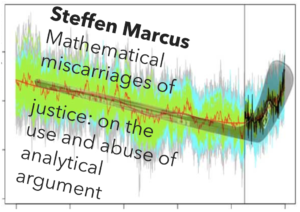 M from 5:30 – 8:20 pm
In this class we will analyze how basic analytical, mathematical and statistical arguments have been used and abused in times when it has really counted. We will study examples from real courtroom cases as well as contemporary science and culture. Taking a critical eye to several case studies and two popular expositions, we will work together to understand how analytical arguments are used effectively, how they are often used erroneously, and what the consequences of their use can be for justice in the world. Some of the cases we will study are famous. Many have dire consequences for the parties involved. All of them hinge on the use or misuse of mathematics.
Nina Ringer
"The Persuasive Power of Recent Television Narrative"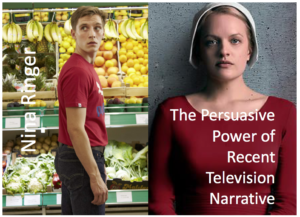 TF from 9:30 – 10:50 am
Many have claimed we are in a new golden age of television, or Peak TV. The Sopranos and The Wire were pioneers that have been followed by multiple recent serialized stories that have attracted film directors, actors, and writers. We have moved from the confinement of networks to cable, pay subscription services, and streaming platforms. Content is developing as quickly as technology, offering us a broader palette of more characters who look like more of us. How we engage with the stories these characters tell shows us the impact of the argument the creators are making. Focusing on the implicit visual arguments these stories make will allow us to create our own explicit written and visual arguments about them. We will explore and write about three of these series, uncovering strategies that each uses to persuade. Students will write one longer final essay on one other series of their choice. Additionally, in small groups, students will create, shoot and pitch a ten-minute pilot for their own series.
Robert Anderson
"Explorations in Time and Time Travel"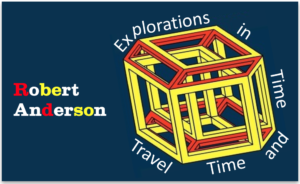 MR from 9:30 – 10:50 am
What do you know about time? Does it move, or do we move in it? It is it constant or variable? Can we leave our present moment? These and many other questions are explored as we examine literature on the nature of time and time travel. Ideas and works by thinkers and writers such as Albert Einstein, H. G. Wells, Jack Finney, Kurt Vonnegut, Robert Heinlein, Stephen Hawking, Dean Koontz, and Stephen King are considered. Physics, philosophy, religion, literature and popular culture are brought to bear on considering meanings and definitions of time and their effects on human thought and consciousness.
Leeann Thornton
"Know Your Food"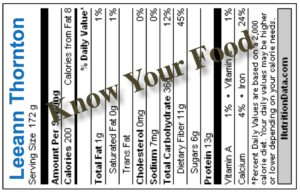 TF from 11:00 – 12:20 pm
Food has been a central component of cultural traditions throughout history and around the world. Industrialized agriculture and globalization have provided food security and easy access to a variety of foods for many people. Technological advances, particularly in the US, have allowed a few people to produce food for many. That means that most Americans are far removed from the actual plants and animals from which our food is produced. This disconnect makes it difficult to truly know your food and understand where it came from, how it was processed, and how food production impacts your health. It also makes it difficult to understand the hidden costs of food, such as environmental and health costs. This course will explore a variety of ways that people do or do not know their food. Because food security is a global issue, this course will explore TCNJ Liberal Learning outcomes related to global issues and awareness. We will read books, watch movies, talk to farmers, and explore issues relating to food and food culture. Students will write about, present and discuss their perspectives and misunderstandings about food and food culture.
David Venturo
"The Beatles and Their World"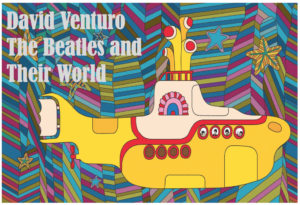 MR from 2:00 – 3:20 pm
The Beatles' lives and musical careers reflect profound cultural changes that took place after the Great Depression and World War II. In particular, the extraordinary transformation of this group in a decade and a half from one of many local Liverpool bands to the most influential popular music group of all time and an international cultural arbiter offers insight into the modern cultural world. With the Beatles as its focus, this seminar will explore such topics in modern cultural history as race relations, women's rights and gender issues, youth culture, counterculture and protest, mass media and public relations, as well as, of course, developments in popular music.
Jodi Weinstein
"The Cambodian Genocide, 1975-1979: Experience, Memory, and Justice"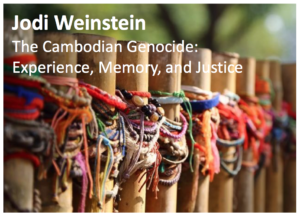 TF 2:00 – 3:20 pm
On April 17, 1975, communist Khmer Rouge forces seized power in the Southeast Asian nation of Cambodia. During their four-year regime, nearly 1.5 million Cambodians perished. Some died of starvation and overwork as the Khmer Rouge attempted to create a utopian peasant society. Others were executed because Khmer Rouge officials deemed them "enemies of the state"–namely individuals with advanced education and skills. Nearly forty years later, the Cambodian nation continues to struggle with the aftermath of the Khmer Rouge era. In November 2018, two of the highest-ranking Khmer Rouge leaders were convicted of genocide and other crimes against humanity. Several other officials died before they could stand trial, and many others will never face justice.
The genocide in Cambodia received little attention at the time and still remains poorly understood. This FSP examines specific events and experiences in Cambodia while emphasizing their deeper historical significance and their enduring relevance in today's world. We will begin with an overview of the political, historical, and cultural factors that contributed to the genocide. Next, we will embark on an in-depth exploration of the genocide itself. Films, memoirs, and fiction from the perspectives of eyewitnesses, survivors, and perpetrators alike will provide a comprehensive view of life in Cambodia before, during, and after the Khmer Rouge years. We will then explore the creation, deliberations, and outcomes of the Khmer Rouge Tribunal, an international body designed to bring Khmer Rouge leaders to justice. Finally, we will examine the Cambodian genocide in a broader global context by drawing comparisons to other genocides, such as the Holocaust, the Rwandan genocide, ethnic cleansing in the former Yugoslavia, the 2006 genocide in Darfur (Sudan), and the ongoing persecution of Rohingya Muslims in Myanmar/Burma.
Ultimately, we will address a broad range of global issues: What are the causes of genocide? Why do genocides continue to occur around the world? How does a society achieve justice, closure, and reconciliation in the aftermath of genocide? Can the international community as a whole–or can we as individuals–do anything to prevent future genocides?
Richard Kamber
"Mortality, God, and Free Will"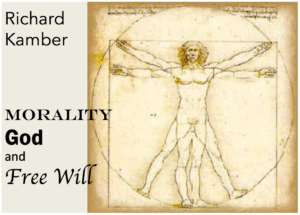 MR from 12:30 – 1:50 pm
Our task this seminar will be to examine and critique some of the most important theories and controversies that have emerged from humanity's quest to understand what it means to be human. We will be concerned in particular with concepts of morality, self-hood, divinity, and free will. To help us in this ambitious undertaking, we will draw on the resources of philosophy, psychology, religion and the arts—including film.